—FOR IMMEDIATE RELEASE—

JAMAICA, New York (October 25, 2007) – The Islamic Circle of North America (ICNA), a grassroots organization of American Muslims, is calling for Americans to wholeheartedly support victims of the wildfires in Southern California. ICNA Relief USA, a division of ICNA, has Disaster Relief experience from the Asian tsunami, South Asian earthquake, and has been recognized by FEMA for its Hurricane Katrina relief.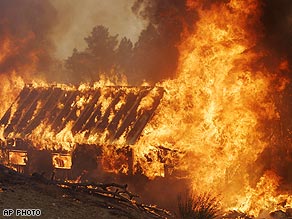 ICNA's Southern California chapter has partnered with several local organizations to provide shelter, evacuation help and immediate and long term relief for those in need. ICNA Relief is also assisting families with paperwork involved with filing claims. ICNA Southern California appeals to the Muslim community to join the special congregational prayer for relief from the fire and for rain to end the drought. Prayers will be held at the Islamic Society of Orange County on October 25th at 6:30 PM.
Visit http://www.icnarelief.org to learn more about ICNA Relief USA's wildfire disaster response. Please donate generously for this noble cause. Hundreds of families have already lost their homes and many have been displaced.