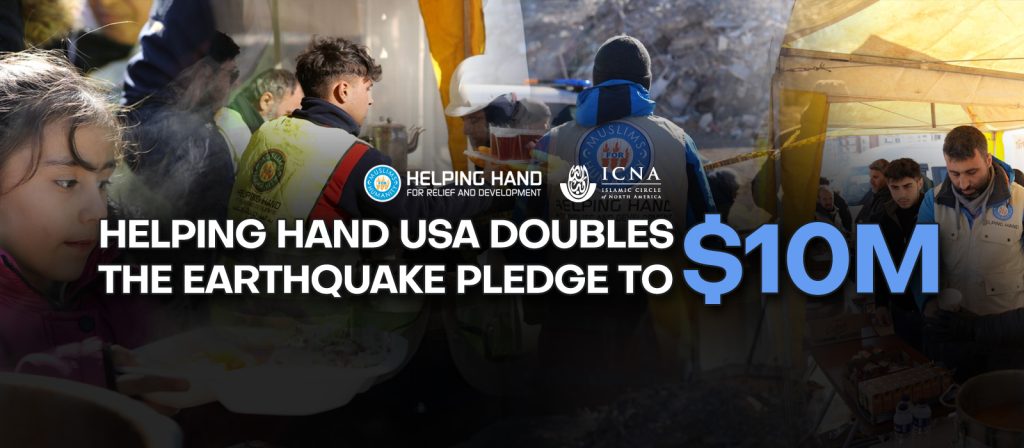 SOUTHFIELD, Mich., Feb. 22, 2023 /PRNewswire/ — Helping Hand for Relief and Development (HHRD) is working to provide relief and aid to those affected by the recent earthquakes in Syria and Türkiye and has announced to double the initial relief appeal to $10 million to help support communities and individuals impacted by the disasters.
The decision came as HHRD declared to begin relief work efforts inside Northwestern Syria. Along with local vetted partner NGOs with extensive experience in disaster response and recovery, HHRD is working together to provide critical assistance and support to those affected by the devastating twin quakes that have occurred in the region in recent weeks.
"We are painfully aware of the huge challenges that lie ahead for the people of Syria and the people of Türkiye," said Javaid Siddiqi, CEO of Helping Hand USA. "I want to assure our brothers and sisters that we stand with you in this time of need, and our Helping Hand team members are working side by side with our vetted partners in the regions to provide immediate aid."
The earthquakes, which have caused widespread destruction and loss of life, have left many homeless, injured, and in urgent need of basic necessities such as food, shelter, and medical care. HHRD was among the first organizations to arrive in Türkiye following the quakes. Since then, HHRD has helped over 50,000 beneficiaries with hot meals, blankets, infant formulas, dry snacks, diapers, and many more urgent necessities. HHRD is also working on developing a long-term recovery plan for these regions.
With providing relief to those affected by the earthquakes in Syria and Turkey, HHRD is calling on its donors to support their efforts by donating funds and resources to aid in the relief and recovery efforts. Help provide comfort to families and communities in this time of desperate need. Visit www.hhrd.org/turkeysyria to donate and learn more about HHRD's efforts in the region.
Ranked among the top 3% of 9,000+ NGOs, HHRD has received a perfect four-star rating from Charity Navigator for the past nine years. HHRD is a member of InterAction as well as an accredited charity by the Better Business Bureau.
MEDIA CONTACT: 
Ilyas Choudry
313-279-5378 
SOURCE Helping Hand for Relief and Development